Today, dating sites for the LGBT community have taken on a lot of popularity, and Planetromeo has become one of the favorites. This site has become one of the most sought after when planning dates with gay men who want to make new friends. Love encounters can also be achieved through this dating site.
These transsexual dating sites has been created exclusively for gay, Trans, and bisexual people. In the Planetromeo Review, you can see that this site's creators are Manuel Abraham and Jens Schmidt. Since 2002, this dating site is available to people who want to meet new friends or new love.
At first, this dating site was only available in countries like Switzerland, Austria, and Germany. Gays and lesbians used this site to arrange interesting dates. Gay men more use this site, and thanks to its new settings, this site can now be accessed from anywhere in the world.
The owner of this dating site goes by the name Romeo BV, and since its inception, he has tried to offer the best service to his members. So that all people who wish to access this site can easily navigate, this dating site can be translated into six languages:
Spanish
Italian
Portuguese
English
French
German
Members Of Planetromeo Dating Site

In Planetromeo Reviews, you can see that this dating site is specifically for gays. For this reason, the majority of the members are gay, bisexual, and transgender men. Most members are looking for short-term dates or casual encounters.
This is very clear to most members when looking at the mounted images in the profiles and the private QuickShare albums. When a member creates their profile on the Planetromeo website, they make indications of what they are looking for when planning a date with another member of this website, and most of the members are looking for sex.
For your security, the verification process at Planetromeo is very strict, so there are minimal fake profiles. It is very easy for this site to detect fake profiles because most of them use profile images and photographs of celebrities.
To increase your profile's credibility, other members who know you can attest that they know you personally and that your profile is totally real. This procedure can be done from the same profile of each member.
Currently, this dating site has more than 6 million users around the world. About 500 thousand members are browsing this online site daily, most of them from European countries.
Real Life Review Of The Most Popular Gay Dating Site
Many of the Planetromeo members have shared their experience, trusting this dating site. Many of these dating site members have decided to register after a love breakup to meet new people.
Others have decided to sign up on a friend's recommendation despite initially being fearful about being new to an online dating site. Many of the members have pointed out that by registering on this dating site, they search for pleasant adventures. The members are very active and willing to make friends at any time.
A boy who belongs to the Planetromeo site announced that he has been able to meet with five boys in a short time, and so far, his experience has been very satisfactory. And just like this guy, so many other members have had so much fun that they have decided to renew their subscription after their previous three-month subscription ends.
How Is The Layout Of The Planetromeo Dating Site?

The Planetromeo website members feel very comfortable with their profile, since thanks to the design, they show the experience becomes more pleasant. This site has a very simple design that you can easily use. When you enter the official Planetromeo site, you will see all the search functions available to you on the main menu.
You will be able to access the different profiles of the members easily since a pop-up window will appear where you must click, and that's it. The messaging on this dating site is also very easy to use because, in the "Romeo Messenger" session, you will be able to find your message inbox and instant messaging.
When you enter this transsexual dating sites, you can find the Romeo Messenger on the right side of the page, and you have to click on the option. The appearance of the Planetromeo site is very practical. Upon entering, you will notice a background made up of various blue shades, and each of the sections is personalized.
This dating site turns out to be very attractive because it has very striking icons and graphics for people of any age.
This Is The Planetromeo Registration Process
If it is your first time on this dating site, in the Planetromeo Review, you will learn everything you need for a delightful experience; in the review, you will see all the features of this site and its functionalities. To be a member of this website and have access to other members' profiles, you must first complete registration.
The registration process can take approximately 5 to 10 minutes, as it is quite simple to fill out. You must answer some common questions such as your username and your date of birth in the form. It will also be important that you add your site location, and you cannot miss the photo of you on your profile.
It is important that you also provide your email address because your account will be verified through it. If you do not verify your account, you will see the different profiles of the other Planetromeo members. Still, you will not be able to use the messaging service to communicate with them.
To register on this dating site, you must be over 18 years of age, and upon verification, you will be asked some questions, which will include:
Your sexual orientation
Your current relationship status
What you want to search on is this website, and you can choose between appointments, friends, encounters, or relationships
Men who are gay, transgender or gay, can quickly join this dating site. If you want to have a home page on this website, you only have to register, and if you prefer, you can connect your Facebook account to formalize the registration.
By registering on these transsexual dating sites, you will have three package options that you can purchase.
If you wish to cancel your subscription after passing the months of your plus membership, you can do so. And you can use all the functions of the dating site until the last day of your invoice.
When registering, you should be clear that this dating site does not offer refunds regardless of the circumstance. You are solely responsible for finding the quotes that best suit your needs and interests regarding your search.
At the time of registering, you will also find gift plus, and through this option, you will be able to give Planetromeo membership to other members.
What Should You Do To Start A Conversation In Planetromeo?

To start a conversation on Planetromeo, you must first register on this site and wait for your email approval. Then you will have to fill out a form with some questions to know for sure your interests. When some of the other members' profiles catch your eye, you can start an interesting conversation using Romeo Messenger.
You can search for members on the Planetromeo website no matter where you are in the world. In the location search filter, you have to put the location you want to reach, and that's it. If you wish, you can anonymously browse this dating site, but it will only be possible if you are a premium member.
To navigate invisibly, you have to click on the red icon located at each member's top left. This dating site has a travel tab, where you can search for companions during your travels.
If you use Planetromeo for free, this site will do its best so that you can also have contact with the other members. You can have access to the basic contact options such as:
Instant chat
Messenger service
Add users
Add favorites list
View your profile visitors during the last 24 hours
In Planetromeo reviews, you can learn about the "footprint" feature. It's a very similar option to compliment stickers. The footprint can be sent to the members, and they are a good option to describe the other members' appearance. These stickers are divided into two categories:
Hot stuff
Rear
Sexy
Hot
Big body
Fulfilled
The man of my dreams
Intelligent
Tender
To start a conversation with another member, Planetromeo offers you the best search options, regardless of whether you have a free or premium membership.
Learn How To Use The Special Functions Of The Planetromeo Website

In the Planetromeo reviews, you can see that there are very interesting special functions on this website:
The Rating Of Images
At Planetromeo, you can rate the newly uploaded images so that you can get more visibility. There are 5 rating options that you can use:
Palette: This rating is for images where you can see a little skin such as legs and breasts without pubic hair. These types of photos make some sexual innuendo.
Flower: These photos are not sexual since they show people covered and seen by people of any age.
Fire: They are stronger images because sexual activity can be found without prohibitions.
Match: This rating is the most appropriate to rate images that show erotic or sexy content.
Illegal: This rating goes directly to inappropriate images. In the photos where people under 18 years old, discrimination, or private conversations appear, they will be classified as illegal.
You Can Share It Instantly
Through the QuickShare option, you can create albums with intimate images that have sexual content. These albums can be shared with those members who send you an access request. Also, you can view other people's QuickShare albums by submitting your access request and being accepted.
Free members will have a daily limit of three requests, and members with a premium membership can make unlimited requests.
You will have access to the Planetromeo blog
The Planetromeo website offers the Meet The Romeo blog to view a very beautiful gallery of this dating site's members. You will see the photo of the members' profiles each week and describe where their personality stands out.
You will see the foundation of Planetromeo
Planetromeo has a foundation to attend to different projects that are carried out to support the entire LGBT community.
Do Mobile Applications Work On Planetromeo?

In the Planetromeo mobile application, you can enjoy the same features you will see on the website. But on devices, the screen is not as large as on desktop computers, so you will not be able to appreciate all the functionalities of the dating site fully.
In the Planetromeo review, you will see that the mobile application of this website has four main tabs:
Profile visits
Travel plans
Messages
Discover
The leading search for the app is called "Discover," and you will see lists of tabs similar to those on the website. Through the discover tab, you can find out which members are close to you. Also, you can see which members are recently active and the profiles of the new members.
In the mobile application, you can also see:
The image of the members in full screen
Contact functions can be seen on the lower right side of the screen
Romeo Messenger option is available in the lower tab menu
You can download the Planetromeo application for free through the Google Play Store or in the Apple App. The application of both platforms so far has a good rating, and although you can do the free download, you can purchase the premium membership through the applications.
These transsexual dating sites apps do not show nudity, but you will need to have the premium membership if you want to view explicit photos from your smartphone.
Costs And Prices Of This Dating Site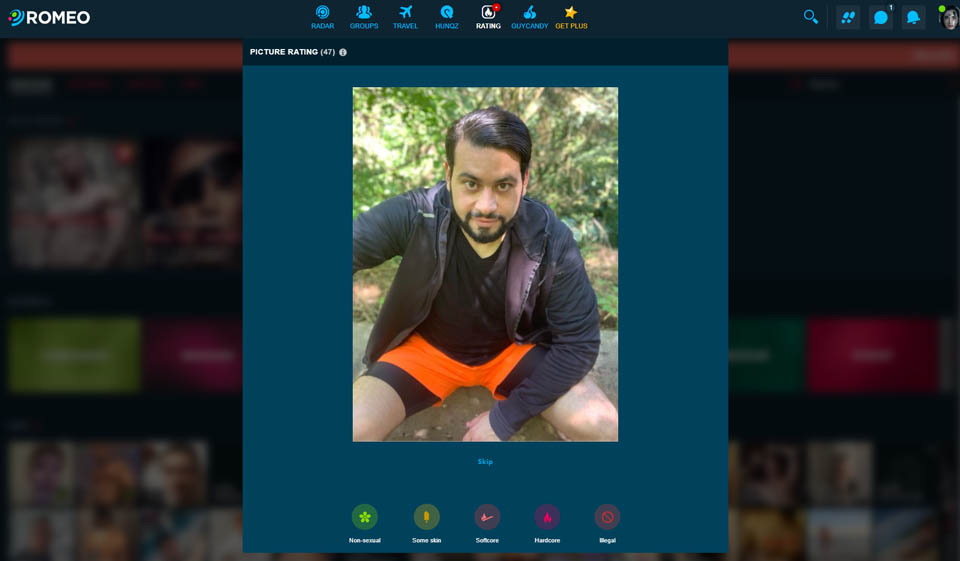 The costs and prices on the Planetromeo website are divided as follows:
One month: 10.11 USD
Three months: 7.86 USD
12 months: $ 5.61
Free Services On Planetromeo
Planetromeo offers you some free options:
You can use search filters
You will have access to browsing profiles
Can give footprint stickers
You can add members as friends
You can save contacts in your favorites list
Rate-Based Services
The paid features on this dating site are as follows:
There will be no ads on your profile
You can see XXX content
Your browsing will be anonymous
The QuickShare will be limited
You can save your search filters
Storage is limited
You can see your profile visitors from the last seven days
Payment Options

The payment options available on the Planetromeo website are:
This dating site has a premium subscription that turns out to be very affordable, and you can buy it in packages that are 1, 3, and 12 months. All contact functions available on this site are free to all members.
Options like QuickShare and XXX content can only be used by having a premium membership, and you will have unlimited access. If you want to seek out casual encounters with other members, you must have the premium membership to get the most out of this dating site.
Planetromeo reviews allow you to learn about the premium membership, who has reviewed your profile in the last seven days. This option can be very useful, especially if you are not going to use your Planetromeo account daily.
Plan charges are billed in euros, even though their website shows the currency according to your location. Best of all, you will find coupons for promo codes that you will find online. You will find these coupons at the end of your purchase, and you can take advantage of them to enjoy great discounts.
Although this dating site offers free services, you can enjoy more features by having a plus membership. With the free mode, you will have access to essential options, but with the premium membership, you will get all the important advantages you need to find members who have the same interests.
Safety And Privacy At Planetromeo Come First
To guarantee your security, the Planetromeo website has strict measures in its privacy policy. Report and block buttons are available on this dating site, should it be necessary to use them. On the interaction page, you will have access to all the options that may be guarantors of your security.
If you believe that one of the members of this dating site is abusive to you, you can immediately click on the block button. This option will be available in the profile of the member you want to block.
This dating site has been considered safe by its members since its inception, as no high-level inconvenience has occurred so far. A safe dating site is available on Planetromeo that you can use with confidence. However, it is important that you also take your usual safety measures to avoid danger.
When you start to interact with the different members of this dating site, you mustn't divulge your personal information. And in case you notice a suspicious member for their behavior, you should immediately make it known to the administrators of the site.
You can rest assured that this dating site is completely safe and scam-free. Most of the site members are genuine, and so far, no legal complaints have been made against the members.
The prices marked on Planetromeo are fair, and the money you provide for your premium membership will be used to improve your experience as your use while you find your casual appointments.
Conclusion

The Planetromeo website is specifically for gay, bisexual, and transgender men. You do not feel afraid to be part of a dating site, much less in Planetromeo, as they take care of ensuring your safety. To be part of this site, you only need to register, use the free mode, or pay a premium membership.
These transsexual dating sites are suitable for people over 18 years old, and people from anywhere in the world can register. This platform can be very useful for you to show your outgoing side and find friends who have the same interests as you. Your experience can be very pleasant on this site, to find friends, love, or a chance meeting.
The Planetromeo website and application have a very simple interface, so you don't waste time learning how to get around. All the options that are available to make friends can be found in a very easy way. The language options will be of great help to you in making contact with men from all over the world.
If you still have doubts about being part of this dating site, you can look at different reviews on the web to see how the site members feel satisfied with the service. Among the different gay sites, you can be sure that you will be pleased and satisfied with the service in this one.
This website can be tailored to suit your style while you get your choice appointments and have a good time.